Comment
Written by
Θωμάς Παπαδημητρόπουλος
on January 10th, 2012 – 17:49
Λίγες ημέρες πριν το 2011 μας αποχαιρετήσει, το δύσκολο αυτό για πολλούς έτος μας χάρισε ένα δώρο μάλλον απρόσμενο, αλλά οπωσδήποτε καλοδεχούμενο! Παραμονές Χριστουγέννων, ανανεώθηκε μετά από αρκετούς μήνες ένα από τα καλύτερα online strips εκεί έξω, το THE PERRY BIBLE FELLOWSHIP! To PBF βρισκόταν σε αδράνεια εδώ και πάρα πολύ καιρό και η ανανέωσή του με ένα νέο strip θύμισε σε πολλούς γιατί θεωρείται τόσο καλό.
Η αδράνεια αυτή έχει τους λόγους της και αυτούς τους γνωρίζει καλύτερα από κάθε άλλον ο δημιουργός του strip και καλεσμένος αυτής της εβδομάδας, Nicholas Gurewitch. Ο Gurewitch έγινε σταδιακά γνωστός μέσα από το ξεκαρδιστικό και απόλυτα σουρεαλιστικό του strip και η φήμη του έφτασε στο απόγειό της, όταν αυτό εκδόθηκε σε συλλογή από τη Dark Horse, με τον εξωφρενικό τίτλο THE PERRY BIBLE FELLOWSHIP: THE TRIAL OF COLONEL SWEETO AND OTHER STORIES (η συγκεκριμένη συλλογή έφτασε στο νούμερο 70 της λίστας μας με τα καλύτερα comics της περασμένης δεκαετίας). Το TRIAL OF COLONEL SWEETO…, αλλά και η web εκδοχή του, κέρδισαν αρκετά βραβεία, μεταξύ των οποίων ένα Eisner κι ένα Ignatz.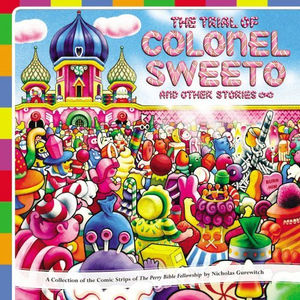 Μετά από εκεί, όμως, το strip ξεκίνησε να ανανεώνεται σε υπερβολικά αραιά διαστήματα και ο δημιουργός του ασχολήθηκε με μερικά από τα υπόλοιπα projects του, τα οποία δεν περιελάμβαναν τα comics. Ο Gurewitch έχει βάλει πλέον την κινηματογραφική του καριέρα σε προτεραιότητα και οι δουλειές του για τη βιομηχανία των comics είναι μηδενικές, με εξαίρεση κάποιες σπάνιες ανανεώσεις στο site του PBF και μια συμμετοχή στο STRANGE TALES, την ανθολογία της Marvel που είδαμε πρόπερσι.
Για όλα αυτά, όμως, είναι πιο αρμόδιος να μιλήσει ο καλεσμένος αυτής της εβδομάδας, Nicholas Gurewitch, ο οποίος μας μιλά για την επιτυχία του PBF και τους λόγους που δε βλέπουμε νέα strips τόσο συχνά, στη συνέντευξη που ακολουθεί:
What are your influences as a writer and artist?
I'm guessing that those artists that influenced me as a child were the most influential, since influences early on are so much more powerful than others. I'll say Charles Shultz, Bill Waterson, Stephen Kellog, Maurice Sendak, Walt Disney.
People (mostly journalists) seem to have a hard time describing the style of your comics. How would you describe it?
I don't think I would. I'm sort of drawn to things that are impossible to describe, I think. So yeah, I wouldn't.
Where did you get the inspiration for THE PERRY BIBLE FELLOWSHIP strips, especially when they were updated on a weekly basis?
Inspiration can have its roots in arbitrarily-created nonsense. But after a period, I think, a person can use money, instead of God, to grind bad ideas into good ones.

Your artistic style in PBF varies from smiley faces to elaborate drawings. What are the reasons for this?
I like to play.
Through PBF you have satirized many situations and ideals. Where do you draw the line? Is there anything you would never make fun of?
There's really no point in drawing lines since every joke hinges on a context. I will say that I am easily offended if it hasn't been presented delicately though. Some of my own work actually offends me later on. Contexts are always changing, and so are tastes. There are no rules at the end of the day.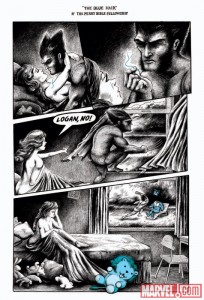 You have also participated in Marvel's STRANGE TALES. Can you describe the experience?
Working with Wolverine was the most difficult experience of my life. You hear stories about actors being divas and needing huge trailers, but Logan was pretty much a nightmare. He would pose for 20 minutes – at best – before losing his temper.
I'm guessing that when an artist receives so many awards for a single work, he has to make at least a… sequel or something. On the contrary, you seem to have drifted away from PBF (and comics in general), with your new strips being more than scarce. What are the reasons behind your decision?
I have a great many interests, and they take up a lot of my time, especially as I tire of sitting at a desk.
Can you tell us what you're working on now?
A TV program, a feature film, and a webseries (trailsoftarnation.com) that will probably be a film when it's all done. All of these are still in an under-fed larva state.
Will we have to wait some months again, before seeing a new PBF strip?
I'll try to post some new ones soon, friend.

Posted to » columns, featured, interviews, online comics, us comics
 print this post
Comment
Όταν γεννήθηκε ο Θωμάς Παπαδημητρόπουλος, οι γιατροί αναγκάστηκαν να τον τραβήξουν με βεντούζα, η οποία του άφησε σημάδι. Είναι καλά τώρα. Ως δημοσιογράφος, έχει γράψει για ένα σωρό πράγματα (από μοτοσικλέτες και μουσική μέχρι γκαραζόπορτες και body building), αλλά τώρα γράφει και για comics και το απολαμβάνει όσο τίποτα άλλο. Η καθημερινότητά του περιλαμβάνει πολλές ώρες πάλης με το πληκτρολόγιο και άλλα - περισσότερο ή λιγότερο - ενδιαφέροντα πράγματα. Καλά είναι, δεν έχει παράπονο. Και να είχε, όμως, ποιος θα καθόταν να τον ακούσει;