Comment
Written by
Θωμάς Παπαδημητρόπουλος
on May 29th, 2012 – 08:11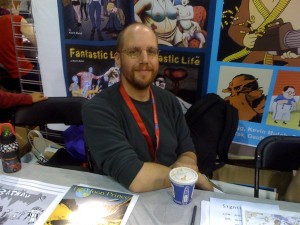 Σα να μην ήταν αρκετά δύσκολο να φτιάξεις έναν δικό σου κόσμο, όπου η Ιστορία, οι νόμοι και ίσως και τα φυσικά φαινόμενα που γνωρίζουμε διαφέρουν σε μεγάλο βαθμό, υπάρχουν και κάποιοι καλλιτέχνες που πηγαίνουν ένα βήμα παραπέρα αυτή την πρόκληση. Στον κόσμο που φτιάχνουν δεν καταρρίπτουν μόνο τους νόμους της Φυσικής, αλλά και αυτούς της λογικής, χαρίζοντάς μας κάποιες από τις πιο αυθεντικά παράξενες ιστορίες που έχουμε ίσως διαβάσει.
Από την άλλη, βέβαια, ίσως αυτοί οι κόσμοι και οι ιστορίες τους δεν είναι και για τον καθένα. Και αυτό θα μπορούσε να εξηγήσει και το γιατί στο δικό μας πεζό και γκρίζο κόσμο καλλιτέχνες όπως ο καλεσμένος αυτής της εβδομάδας, Hans Rickheit, δεν είναι όσο δημοφιλείς θα έπρεπε. Σίγουρα αυτό το φαινόμενο δεν οφείλεται σε έλλειψη ταλέντου ή – πολύ περισσότερο – φαντασίας, αλλά σε παράγοντες που δεν είναι της ώρας να συζητηθούν. Γιατί ο Rickheit διαθέτει μεγάλο αποθεματικό και των δυο, κάτι που είναι φανερό στις, λιγοστές δυστυχώς, δουλειές του.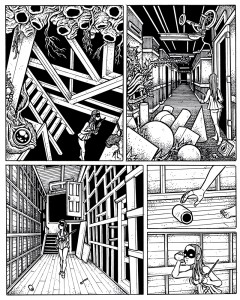 Οι πιο χαρακτηριστικές αυτών μπορούν να βρεθούν στις διάφορες σειρές mini comics που έχει εκδώσει κατά καιρούς, συνήθως με δικά του μέσα. Η γνωστότερη, το CHROME FETUS συγκεντρώθηκε πρόσφατα από τη Fantagraphics σε έναν τόμο με τίτλο FOLLY: THE CONSEQUENCES OF INDISCRETION και αποτελεί μιας πρώτης τάξεως ευκαιρία για όποιον επιθυμεί να επισκεφτεί τον κόσμο του Rickheit, εκεί που τον έλεγχο παίρνουν εικόνες ικανές να σε στοιχειώνουν με την ωμότητα τους και ιστορίες που σπάνια βγάζουν νόημα. Κάτι σα μικρές ματιές σε έναν κόσμο διαφορετικό από το δικό μας, μέσα από ένα αλλοιωμένο πρίσμα, όμως, που ελέγχει ο ίδιος ο δημιουργός.
Οι μικρές ιστορίες, όμως, αποτελούν ένα μόνο μέρος της δουλειάς του. Ο Rickheit έχει εκδώσει και δύο graphic novels, τα CHLOE και THE SQUIRREL MACHINE – το πρώτο μόνος του και το δεύτερο μέσω της Fantagraphics. Μπορείτε να δείτε αυτά τα δύο έργα του (το πρώτο, μάλιστα έχει βραβευθεί και με Xeric Award) σαν ένα πάσο διαρκείας στον κόσμο του. Παράλληλα, οι ασχολίες του περιλαμβάνουν κι άλλες μορφές Τέχνης (από εικονογράφηση μέχρι performance art), αλλά και δύο webcomics σε serialized μορφή, τα ECTOPIARY και COCHLEA & EUSTACHIA, τα οποία μπορούν να εισάγουν στον κόσμο του Rickheit και τους πιο διστακτικούς (από οικονομικής άποψης).
Και, φυσικά, μπορείτε να διαβάσετε και τη συνέντευξη που ακολουθεί και να μπείτε στον κόσμο αυτό με οδηγό τον ίδιο το δημιουργό του, τον καλεσμένο αυτής της εβδομάδας, Hans Rickheit.
Where does someone find the inspiration for such obscure stories and haunting images?
I am not certain if "inspiration" is the correct word. I am compelled to draw these comics. "Obscure" is another word that I'm not quite sure fits. These stories follow a certain pattern of logic that makes sense to me. I don't have the vocabulary to explain how it works, that is why I draw them as comic strips.
I have to say that most of your images are capable of really staying in one's head for a long time… Is this one of your goals or do they serve something else?
Someone once described my work as "being weird for the sake of being weird." I do not view this as being a bad thing. In fact, I see it as a purpose unto itself. How can one produce images that possess a profound strangeness that persists no matter how many times you look at it? I do not claim to be successful at this, but it is one of my chief aims in producing these comics.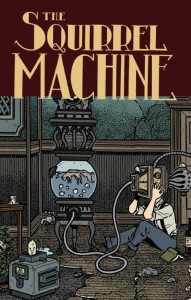 Do you prefer working on short stories or longer ones like THE SQUIRREL MACHINE?
Being intensely involved with a lengthy narrative that may take months or years to complete is very enjoyable to me. It seems to give a shape and purpose to my life. However, the shorter stories are enjoyable, too. Learning to be succinct is a virtue.
In what ways is your approach different when writing and illustrating a longer story?
Longer stories tend to have more character development and multiple layers of hidden story arcs that interweave and overlap. Although I tend to improvise my way through all my comics-making, I try to keep this in mind when drawing a large graphic novel. The shorter strips are mostly for fun and tend to be driven by the visual elements that I put in.
I have read that you make up your stories as you go along. What kind of surprises does such a method hold for its writer and when does he know when to end the story?
Most of the comics I make develop organically. If I were to script out a story in advance, the intended plot would change the minute I drew Page One, Panel One. The surprises come when I let the characters and picture run amuck on the paper with only the slightest guidance from my conscious sensibilities. The stories end when I've run out of things to say.
Do you feel that there is a "single explanation" for your stories or is there a different one for every reader (or in every read, for that matter)?
There is absolutely no intended meaning or message in any of the stories I make. I just draw them. It is the readers' job to learn the meanings in these comics (and hopefully report those meanings to me. I'm curious!)
Can you describe your new book, FOLLY?
FOLLY is a compendium of the better selections from the CHROME FETUS mini-comics I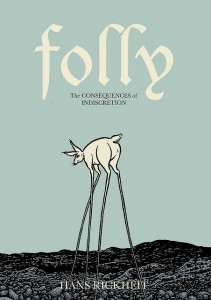 self-published over the last two decades. There isn't a conscious connective thread to the stories therein contained, except that some characters recur throughout, and many themes are repeated and replayed with different results. I would like readers to consider this a bedside companion, meant to be read in small doses and not all at once.
Is there anything new in there, for fans that already have read the CHROME FETUS mini series?
Much of what is in FOLLY has already appeared in the mini-comics. However, the experienced CHROME FETUS reader can enjoy the larger layout, better reproduction and the color sections, which were beyond my own production budget when I first printed them.
You have recently begun updating the ECTOPIARY webcomic again. Should we expect something similar for COCHLEA & EUSTACHIA too?
Both websites are being updated regularly; ECTOPIARY weekly and C&E bi-weekly. I've also begun serializing the graphic novel CHLOE (the 2001 Xeric Award Winner) twice a week. That is a lot of free comics!
Are you working on anything else right now? What should we expect from you in the near future?
I've just finished producing some artwork (along with an army of other amazing artists) for Amanda Palmer's upcoming album with The Grand Theft Orchestra. I am also in the middle of a short six- pager for the comix anthology BLACK EYE 2, which is due out later this year.
I hope, in a year or so, to gather up the first 50 pages from the COCHLEA & EUSTACHIA webcomic and publish them as the first volume of a regularly occurring serial. The books will feature the comics in full-color.
Also, with luck, the First Volume of ECTOPIARY should be available in printed form at about the same time. Please remain alert!
Posted to » columns, featured, interviews, us comics
 print this post
Comment
Όταν γεννήθηκε ο Θωμάς Παπαδημητρόπουλος, οι γιατροί αναγκάστηκαν να τον τραβήξουν με βεντούζα, η οποία του άφησε σημάδι. Είναι καλά τώρα. Ως δημοσιογράφος, έχει γράψει για ένα σωρό πράγματα (από μοτοσικλέτες και μουσική μέχρι γκαραζόπορτες και body building), αλλά τώρα γράφει και για comics και το απολαμβάνει όσο τίποτα άλλο. Η καθημερινότητά του περιλαμβάνει πολλές ώρες πάλης με το πληκτρολόγιο και άλλα - περισσότερο ή λιγότερο - ενδιαφέροντα πράγματα. Καλά είναι, δεν έχει παράπονο. Και να είχε, όμως, ποιος θα καθόταν να τον ακούσει;