Έρχεται το BLACKSAD: AMARILLO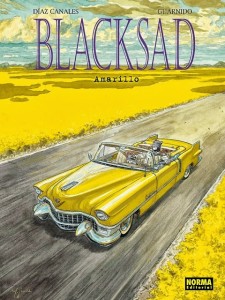 Επιστρέφει με το 5ο volume του, ένα από τα πλέον δημοφιλή και πολυμεταφρασμένα ευρωπαϊκά comics! To BLACKSAD: AMARILLO θα κυκλοφορήσει τον Νοέμβριο από τη γαλλική Dargaud, πάντα από τους Ισπανούς δημιουργούς Juan Díaz Canales και Juanjo Guarnido.
Σύμφωνα με την ανακοίνωση, o John Blacksad θα ζήσει τη νέα περιπέτειά του κατά τη διάρκεια ενός απρόβλεπτου road trip…
'John Blacksad is tired of all the violence and misery around him, so he decides to take his time before returning home. Luck seems to smile on him when a stranger hires him to deliver his car, a brand new Cadillac Eldorado model, from New Orleans to Tulsa. But the south roads are as dusty as they are unpredictable, and Blacksad unwittingly finds himself driving from one end of the US to another, in order to solve a murder involving biker parades, lawyers, writers and even a bloody circus!'
Δυστυχώς όσοι δε γνωρίζουμε γαλλικά θα πρέπει να περιμένουμε για αρκετό καιρό, καθώς η Dark Horse που έχει τα δικαιώματα των αγγλόφωνων εκδόσεων, συνήθως κυκλοφορεί τα άλμπουμς δύο χρόνια μετά την αρχική έκδοση. Με δεδομένο πάντως ότι το 4ο volume (BLACKSAD: SILENT HELL) τιμήθηκε τον περασμένο Ιούλιο με Eisner Award στην κατηγορία 'Best US Edition of International Material', δεν αποκλείεται να δούμε γρηγορότερα την αγγλόφωνη έκδοση του BLACKSAD: AMARILLO.