72α Reuben Awards
Ανακοινώθηκαν οι φετινοί νικητές!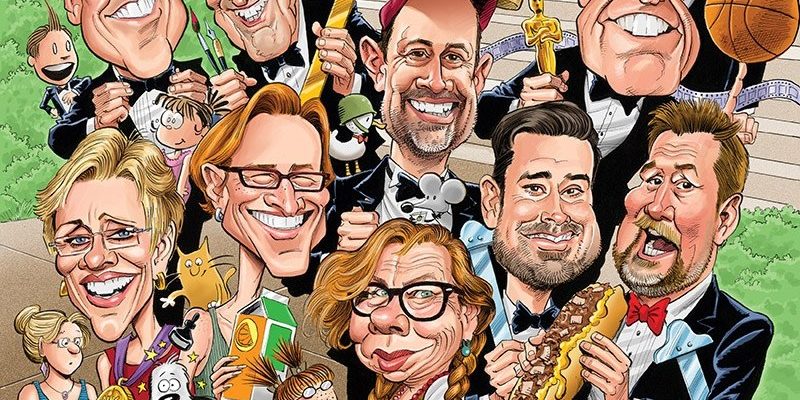 Ανακοινώθηκαν οι νικητές των βραβείων της National Cartoonists Society, Reuben Awards, στην ετήσια τελετή, η οποία έλαβε χώρα κατά τη διάρκεια του σαββατοκύριακου της εθνικής γιορτής Μνήμης των ΗΠΑ, προς τιμήν των πεσόντων στρατιωτών.
Φέτος, το κορυφαίο βραβείο, το περίφημο Reuben Award, απονεμήθηκε στον βετεράνο cartoonist και animator Glen Keane, γνωστό από τη δουλειά του στις ταινίες των Walt Disney Animation Studios, THE LITTLE MERMAID, BEAUTY AND THE BEAST, ALADDIN, POCAHONTAS, TARZAN και TANGLED, ενώ φέτος κέρδισε το Oscar για το μικρού μήκους animation του, DEAR BASKETBALL. Έτσι, συνεχίζει την παράδοση του πατέρα του, Bil Keane, ο οποίος είχε τιμηθεί με το Reuben Award πριν χρόνια, για το comic strip του, FAMILY CIRCUS.
Ακολουθούν οι νικητές των υπόλοιπων κατηγοριών σε bold, καθώς και οι λοιποί υποψήφιοι, όπου στην κατηγορία των Editorial Cartoons είχαμε ισοψηφία, με αποτέλεσμα να μοιραστεί το βραβείο.
Editorial Cartoons

Clay Bennett
Mike Peters
Michael Ramirez

Newspaper Illustration

Greg Cravens
Glen Le Lievre
Dave Whamond

Feature Animation

Benjamin Renner & Patrick Imbert (directors) – THE BIG BAD FOX & OTHER TALES
Nora Twomey (director) – THE BREADWINNER
Lee Unkrich (director) & Adrian Molina (co-director) – COCO

Television Animation

Alan Bodner (Art Director) – DISNEY'S TANGLED, THE SERIES
Rustam Hasanov (Art Director) – TROLLHUNTERS (Dreamworks)
Sean Jimenez (Art Director) – DISNEY'S DUCKTALES

Newspaper Panels

Loose Parts – Dave Blazek
Harry Bliss – Bliss
Off the Mark – Mark Parisi

Gag Cartoons

Pat Byrnes
Joe Dator
Will McPhail

Advertising/Product Illustration

Farley Katz
Johnny Sampson
Dave Whamond

Comic Books

Cliff Chiang – PAPER GIRLS 15
Dean Ormston – BLACK HAMMER SECRET ORIGINS
Sana Takeda – MONSTRESS Vol. 2: THE BLOOD

Graphic Novels

Emil Ferris – MY FAVORITE THING IS MONSTERS
Tillie Walden – SPINNING
Campbell Whyte – HOME TIME

Magazine Feature/Illustration

Peter Kuper
Tom Richmond
Johnny Sampson

Online Comics – Long Form

John Allison – BAD MACHINERY
Vince Dorse – UNTOLD TALES OF BIGFOOT
Ru Xu – SAINT FOR RENT

Online Comics – Short Form

Gemma Correll – GEMMA CORRELL
Lonnie Millsap – BACON
Mike Norton – L'IL DONNIE

Book Illustration

Ryan T Higgins – BE QUIET
Adam Rex – THE LEGEND OF ROCK PAPER SCISSORS
Ed Steckley – RUBE GOLDBERG'S SIMPLE NORMAL HUMDRUM SCHOOL DAY

Newspaper Strips

Terri Libenson – PAJAMA DIARIES
Mike Peters – MOTHER GOOSE AND GRIMM
Mark Tatulli – LIO
Τέλος, φέτος δόθηκαν και δύο πολύ σπάνια ειδικά βραβεία. Η σκιτσογράφος Lynn Johnston, γνωστή για το comic strip της, FOR BETTER OR FOR WORSE, τιμήθηκε με το Medal Of Honor, ενώ ο εικονογράφος και cartoonist Arnold Roth έλαβε το Χρυσό T-Square. Επίσης, οι σκιτσογράφοι Brendan Burford και Rick Stromoski έλαβαν τα ασημένια T-Squares και ο ειδησεογράφος Jake Tapper βραβεύθηκε με το A.C.E. (Amateur Cartoonist Extraordinary) Award.