D' Israeli: The Interview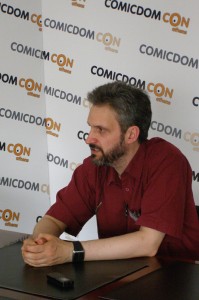 O ένας από τους δύο καλεσμένους μας (από αυτούς που τα κατάφεραν να έρθουν παρά το ηφαίστειο τέλος πάντων) ήταν ο D' Israeli, κατά κόσμο Matt Brooker, ο οποίος έχει εργαστεί σε πολλά σημαντικά comics, ως writer, penciller, inker, colorist και letterer.
Κάποια από τα comics στο βιογραφικό του είναι τα MIRACLEMAN, THE SANDMAN, BIG BOOKS, KILL YOUR BOYFRIEND, KINGDOM OF THE WICKED, SCARLET TRACES και LEVIATHAN. Έχει επίσης εργαστεί στα JUDGE DREDD MEGAZINE, BLAST! και BIG BOOKS.
Κατά τη διάρκεια του τριημέρου, ο Θωμάς Παπαδημητρόπουλος μίλησε μαζί του και έμαθε πολλά και ενδιαφέροντα πράγματα. Τώρα, μπορείτε να τα μάθετε κι εσείς.
Many people are wondering why you are using a pseudonym and what does it mean. Can you tell us?
You have worked as a writer, a penciller, an inker, a colorist and a letterer. I think the only thing you haven't done yet is editing…
And which one of these aspects do you prefer the most?
Is it better working for a British publisher or an American one?
Is there anything particular that you remember from your run on BATMAN?
Are there any artists that have influence your work?
Your recent projects are created on computers. Which are the benefits in such techniques?
If a guest of Comicdom Con could afford only one of your comics, which one would you suggest as your signature work?
What do you think about conventions in general? Is it something you enjoy or just a necessary evil?