John Romita Jr: The Interview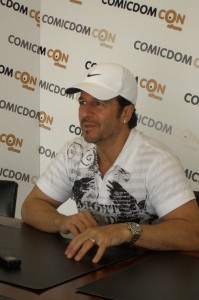 Ο John Romita Jr είναι ένας άνθρωπος που (όσο κλισαρισμένο κι αν ακούγεται) πραγματικά δε χρειάζεται συστάσεις. Είναι ο γιος του θρυλικού John Romita Sr και έχει αφήσει το στίγμα του σε σειρές, όπως τα THE AMAZING SPIDER-MAN, X-MEN και IRON MAN, ενώ έχει δημιουργήσει και creator owned projects, όπως GRAY AREA και το KICK-ASS (μαζί με τον Mark Millar), το οποίο μεταφέρθηκε πρόσφατα στο σινεμά (η πρεμιέρα του στη χώρα μας είναι σήμερα).
Η επίσκεψή του στο Comicdom Con Athens 2010 χαροποίησε πολλούς fans των comics, οι οποίοι έσπευσαν να τον δον από κοντά στο workshop του, το Q&A και, φυσικά, το signing του, στη διάρκεια του οποίου επικράτησε το αδιαχώρητο.
Στα διαλείμματα από τις υποχρεώσεις του έκανε μερικές βόλτες στους χώρους του Con, αλλά και της Αθήνας (υποστηρίζει ότι κάθε γνήσιος Νεοϋορκέζος λατρεύει το περπάτημα) και σε ένα από αυτά μίλησε στο Θωμά Παπαδημητρόπουλο για την πορεία του στα comics, τις επιρροές του, την ανάμειξη του στην ταινία KICK-ASS και τα μελλοντικά του projects.
Απολαύστε τον, γιατί είπε πολλά πραγματικά ενδιαφέροντα πράγματα.
You broke into the comics scene in the late '70s. Was being your father's son a blessing or a curse?
Was your father's art a major influence?
What about other influences? Where there any?
How did your art evolve over the years? What were the factors?
But how can your art be any different after so many years? Isn't that difficult to achieve?
You have made comics for major publishers, such as Marvel, and creator owned comics. What were the challenges in each case?
Are there any favorite partners, runs or issues in your career?
What is the most challenging part in drawing? I mean, you have drawn battles, talking heads and silent faces. Which is the most difficult?
How does it feel like seeing one of your comics (let alone your own creator owned comic – KICK ASS) being made into a film?
Were you concerned whether it would have been made justice or not?
You also directed an animated sequence for the KICK-ASS movie. How was that a new challenge?
Which is harder, directing a comic through your art or an animated sequence?
You spoke of some new creator owned comics. Can you reveal some more?
Should we be expecting them any time soon?
By which publisher?
What should we expect from the AVENGERS relaunch in May?
Will we be seeing any new KICK-ASS issues soon?
Let's talk about conventions. What's the best part and what's the worst part about them?
You also meet some strange people…