Top 100 Film & TV Adaptations
80-71: "Holy sardine, Batman!"
76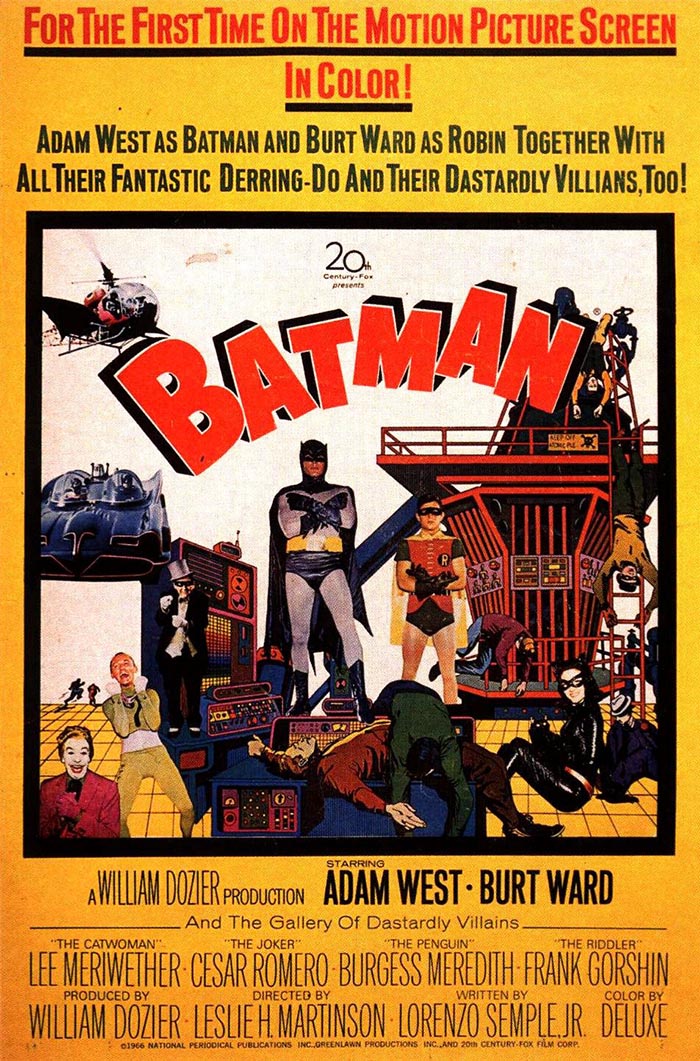 Batman: The Movie
1966
Writer
Lorenzo Semple Jr.
Director
Leslie H. Martinson
CastAdam West, Burt Ward, Lee Meriwether, Cesar Romero, Burgess Meredith, Frank Gorshin
20th Century Fox
H συγκεκριμένη ταινία ελάχιστες διαφορές έχει από το οποιοδήποτε επεισόδιο της ομότιτλης, θρυλικής και γεννημένης για cult status σειράς. Θα μπορούσε, μάλιστα, να αποτελεί τέσσερα επεισόδια της σειράς. Τι σημαίνει αυτό; Τετραπλή διασκέδαση! Fun, fun, fun – και fun!
Στο BATMAN: THE MOVIE, τέσσερις από τους δημοφιλέστερους villains του Batman – οι Penguin, Joker, Riddler και Catwoman – ενώνουν για πρώτη φορά τις δυνάμεις τους, δυσκολεύοντας το έργο του Dynamic Duo. Και αυτό έχει ως αποτέλεσμα κάποιες από τις πλέον φιλόδοξες σκηνές στην ιστορία αυτής της ενσάρκωσης του Caped Crusader και την εναλλαγή επικίνδυνων (μέσα στην αφέλειά τους) σχεδίων παγίδευσής του.
Φυσικά, όσα στοιχεία έχουν φέρει την τηλεοπτική σειρά στη θέση που έχει ανάμεσα στους fans του Batman βρίσκονται επίσης εδώ, στην πλήρη μεγαλοπρέπειά τους, από τις εξωφρενικές σκηνές μάχης έως στα συμπεράσματα που βγάζει ο World's Greatest Detective και από τις εικονικές πλέον στολές των πρωταγωνιστών έως τα εξωφρενικά gadgets του Batman – Bat Shark Repeller κανείς;