PREVIEWS PICKS (MAR10): The "Blue Pages"
Marvel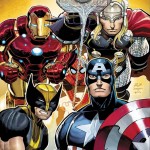 AVENGERS #1 (pM 33, $3.99)
Το Heroic Age ξεκινάει με νέο τίτλο AVENGERS από το Brian Bendis και τον John Romita Jr. Ας ελπίσουμε ότι το νέο ξεκίνημα θα έχει να μας πει κάτι περισσότερο από τις τρέχουσες ιστορίες των Avengers.
SECRET AVENGERS #1 (pM 54, $3.99)
Αν και δεν ξέρουμε ποιοι θα είναι οι Secret Avengers, το creative team Ed Brubaker / Mike Deodato υπόσχεται πολλά. Θέλω να δω αν ο Brubaker μπορεί να γράψει καλύτερους AVENGERS από το Bendis.
X-MEN FOREVER GIANT SIZE #1 (pM 78, $3.99)
Έχει περάσει πολύς καιρός από τότε που ο Claremont έγραψε GIANT SIZE X-MEN. Artwork από το Mike Grell. Για τους fans των X-Men άνω των 30.
DC
DC UNIVERSE LEGACIES #1 (pg. 73, $3.99)
Η ιστορία του DC Universe ξεκινά εδώ, από τους Len Wein, Andy & Joe Kubert, JG Jones. Αν παραγγείλετε μόνο έναν τίτλο αυτό το μήνα, this is it.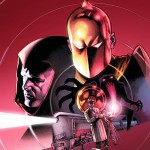 BATMAN: THE RETURN OF BRUCE WAYNE #1-2 (pg. 74, $3.99)
Κάποτε θα επέστρεφε και ο Bruce Wayne, γιατί όχι τώρα…; Από το συγγραφέα που τον "σκότωσε" in the first place, Grant Morrison.
THE LEGION OF SUPERHEROES #1 (pg. 83, $3.99)
Νέος τίτλος για το LSH, από τον Paul Levitz, το συγγραφέα που είναι υπεύθυνος για τις καλύτερες ιστορίες του τίτλου.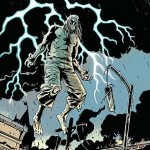 A GOD SOMEWHERE GN (Wildstorm, pg 103,
$24.99)
Original graphic novel από το John Arcudi και τους Peter Snejbjerg, Bjarne Hansen για μια πιο ρεαλιστική προσέγγιση των συνεπειών των υπερδυνάμεων στη ζωή ενός απλού ανθρώπου όταν τις αποκτά χωρίς να το θέλει.